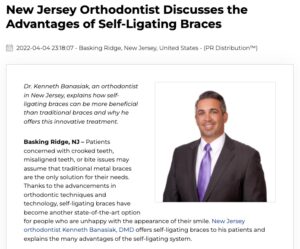 Dr. Kenneth Banasiak, an orthodontist in New Jersey, explains how self-ligating braces can be more beneficial than traditional braces and why he offers this innovative treatment.
Basking Ridge, NJ – Patients concerned with crooked teeth, misaligned teeth, or bite issues may assume that traditional metal braces are the only solution for their needs. Thanks to the advancements in orthodontic techniques and technology, self-ligating braces have become another state-of-the-art option for people who are unhappy with the appearance of their smile. New Jersey orthodontist Kenneth Banasiak, DMD offers self-ligating braces to his patients and explains the many advantages of the self-ligating system.
No elastic bands or metal ties required. Traditional braces often use elastic bands or metal ties to secure the archwire, while self-ligating braces use brackets with a gate-like mechanism that holds the archwire without the need for elastic or metal ligatures. In addition, patients can choose metal or clear brackets for their self-ligating braces.
More comfortable process. Since self-ligating braces are designed to move teeth gently without too much friction, Dr. Banasiak says that many patients may find that self-ligating braces are more comfortable compared to traditional braces.
Adjustment appointments take less time. Patients with traditional braces need their elastic bands or metal ties replaced each time their braces are tightened by their orthodontist. Dr. Banasiak explains how tightening appointments for patients with self-ligating braces are typically not as time-consuming. The process is just the matter of opening and shutting the door-like mechanism of the brackets and not individually changing each elastic band or metal tie.
Easier to clean. Traditional braces have elastic or metal ligatures that can easily trap food particles. Self-ligating brackets do not use any ligatures, making it less likely for food to get stuck in the braces and easier to clean if there are leftover particles caught between the brackets.
Versatile and efficient self-ligating system. "The self-ligating brackets are more advanced than traditional brackets, working faster due to less friction," explains Dr. Banasiak.
Overall, the New Jersey orthodontist believes there are many advantages to the self-ligating braces that his practice offers. For comfort and efficiency, Dr. Banasiak says he highly recommends patients consider self-ligating braces for orthodontic treatment. He notes that scheduling a consultation for a thorough evaluation is the best way for individuals to find out if they are a good candidate for this advanced treatment.
About Kenneth Banasiak, DMD
Dr. Kenneth Banasiak is a board-certified orthodontist who provides a wide range of orthodontic solutions for patients in the Basking Ridge and Mendham area. He offers a variety of treatments for patients and their families, including Invisalign® clear and removable aligners, self-ligating braces, and two-phase treatment for child orthodontics. Dr. Banasiak has been awarded "Top Dentist" by New Jersey Monthly 12 years in a row and has also been given the prestigious OKU Dr. William S. Kramer Award of Excellence. He is committed to remaining up-to-date with the latest advancements in orthodontic techniques and technology by maintaining active memberships in professional organizations and participating in continuing education. Dr. Banasiak is a member of the American Association of Orthodontists and is a Diplomate of the American Board of Orthodontics. Dr. Banasiak is available for interview upon request.
To learn more about Dr. Banasiak and his practice, visit newjerseybraces.com and facebook.com/BanasiakNettuneOrthodonticAssociates.
Contact:
Banasiak & Nettune Orthodontic Associates
Basking Ridge Office:
65 S. Maple Ave.
Basking Ridge, NJ 07920
(908) 766-2444
Mendham Office:
18 E. Main St.
Mendham, NJ 07945
(973) 543-6644
Rosemont Media
www.rosemontmedia.com
(858) 200-0044