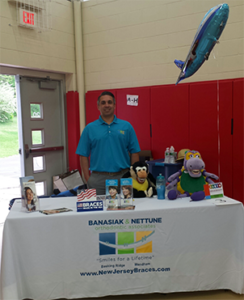 At Banasiak & Nettune Orthodontic Associates, we are committed to providing exceptional care to the individuals in our community, and have been doing so for over 40 years. As residents here, we have had the honor and privilege of treating our friends and neighbors. One of our favorite aspects of working in our community is contributing to charitable causes that help those around us. Our experienced orthodontists and dental team donate their time, money, and skill to a wide array of programs. These functions are typically designed to assist children and their families in improving their oral health and enjoying the process. Every year we participate in about four philanthropic endeavors. Some events we return to annually, others we like to change up to provide a new, exciting option for our patients. Examples include:
---
Dental Health Month
February is Dental Health Month, and for the last 30 years our team has headed out to the local schools to teach children about proper oral hygiene and healthy eating habits. Since entertainment is as important as education, we utilize games, skits, stories, movies, and other mediums to get kids of all ages excited to participate.
---
Charter Day
Every May we celebrate our town's Charter Day alongside numerous other local businesses. We take this opportunity to show locals how important dental and orthodontic treatment can be, and to talk about how Banasiak & Nettune Orthodontic Associates is a unique, patient-focused practice.
---
Complimentary Orthodontic Treatment
Community members are welcome to submit their names (or a friend's name) in a drawing for the chance to win a free orthodontic treatment.
---

Limo Contest
Another annual event, our Limo Contest has been running for five years and is one of our most popular programs. We plan a different entry process each time, and the winners, along with a group of their closest friends, get to arrive to their first day of school in a limo.
---
Bounce Factory
We love our patients and want them to know it! We recently held a Patient Appreciation Party at The Bounce Factory. Kids (and kids at heart) jumped, slid, climbed, and, yes, bounced, to their hearts' content on a wide range of inflatable obstacles.
---
Local Youth Sports
When we're not encouraging friends and neighbors to brush and floss their teeth, we're often at our local schools watching youth sports. Recreation is an important part of staying healthy, so we contribute as often as possible to as many teams as we can.
---
You can learn more about our special events by visiting our Contest Winners page. You can also contact our practice for more information about our current cause.