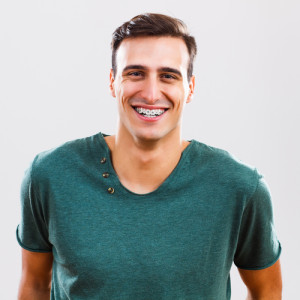 There are many reasons why a person may defer orthodontic treatment until adulthood. However, if you're dissatisfied with the appearance of your smile or if you experience discomfort due to teeth misalignment, there's no reason to continue putting off the procedure. Our experienced orthodontist, Dr. Kenneth Banasiak, offers a comprehensive range of advanced techniques that can help you achieve straighter, better functioning teeth and a more beautiful smile. We recognize that adults have unique needs and goals, including the desire for discreet treatment, and we can tailor your orthodontic care to best suit your lifestyle. Don't wait any longer for the smile of your dreams; contact our practice today for a complimentary initial consultation.
Do I Need Orthodontic Treatment?
The most common reasons for undergoing adult orthodontic treatment are to enhance the cosmetic appearance of the teeth, to address functional concerns, or to do both. Many people experience discomfort when eating, speaking, or biting normally as a result of misaligned teeth. Braces and other teeth straighteners can help to address these issues as well as achieve a balanced smile in harmony with your facial features. If you have an overbite, underbite, crossbite, crowding, gaps, or other issues, orthodontics may be right for you. Dr. Banasiak can evaluate your oral structures and determine whether orthodontia is right for you and which procedure offers the best approach.
In some cases, orthodontics is a necessary part of preparing for orthognathic (jaw) surgery. If you have been told or think you may need jaw surgery, we can help determine appropriate timing for orthodontia to help ensure optimal results. Orthognathic surgery is sometimes used in cases of unbalanced facial appearance, TMJ (temporomandibular joint) pain, facial injuries, and severe bite problems. When assessing your bite (occlusion), we will inform you if surgery may be recommended and what steps should be taken to reduce the orthodontic treatment time, enhance your outcome, and make the most of the procedure.
What Are My Options?
Orthodontics has changed dramatically in the last few decades. There are many options available to help achieve a patient's desired outcome more comfortably and in less time than previously possible. In addition to traditional braces, we offer a comprehensive range of alternatives that offer greater discretion than ever before. We understand having visible braces as an adult can make some individuals feel self-conscious. Invisalign®, ceramic braces, and self-ligating braces are among the many more discreet options we provide. Furthermore, our customized treatment plans are designed based on your unique anatomic needs (meticulously evaluated by our skilled team) and your personal preferences. We will go over each option with you and find the ideal technique together.
I had braces from Dr. Banasiak in 2020-2021 as an adult patient. I can't say enough good things about the care I received. I am not only thrilled with my new 😀 but I also no longer have any headaches from the correction to my bite. The staff and Dr.B are all kind and gentle, they walk you through every step of your treatment. I strongly recommend for not only adult patients but for children as well. I will for sure be bringing my girls here for their treatment when they are a bit older. If your looking for an excellent Dr. and staff for your orthodontic treatment, look no further you have found the right one!

Brittany Barry

December 10, 2021

12345
More Reviews
FAQs (Frequently Asked Questions) About Adult Orthodontics
If you're considering orthodontic treatment, congratulations! You are investing in your health and well-being as well as your smile. To make this process as easy as possible, our orthodontist has answered some frequently asked questions about adult orthodontics to serve as a helpful resource. If you would like to learn more, we encourage you to schedule a consultation.
How do adult braces differ from children's orthodontics?
Some of the key differences between adult and child orthodontics are age-related concerns (more adults have insufficient bone, gingivitis, and limited space within the mouth.) Additionally, adult jaws and oral structures have finished growing and the tissues are less malleable than those of children. On the other hand, adults are typically more cooperative when it comes to treatment than children. All these factors are taken into consideration when we design an orthodontic program for you. Your teeth, gums, and oral structures will be evaluated and your cosmetic goals identified so we can tailor the procedure to optimize your outcome.
Can teeth be adjusted at any age?
If you're over the age of seven and in good health, you should be able to have orthodontic treatment. More individuals are addressing misalignment (malocclusion) of the teeth than ever before, and nearly 20 percent of all braces wearers are adults. If you're dissatisfied with the appearance of your smile or the function of your teeth, we can help you reposition your dentofacial anatomy to best suit your needs and goals. We offer a wide range of advanced teeth-straightening methods, including discreet and removable options that are more comfortable and effective than what you may be used to. We see patients in their 30s, 40s, 50s, and above!
Are there other options besides traditional metal braces for adults?
Absolutely! In addition to traditional metal braces, patients at our practice have access to self-ligating braces, which are a form of orthodontics that use less pressure for greater comfort and often faster results. They also come in clear for a more discreet teeth-straightening experience. Of course, the most popular option for many adults is Invisalign®. This innovative system uses a series of clear aligner trays to gradually shift the teeth into the desired position. Not only are they virtually invisible, they are also removable. We can help you determine which of these techniques is ideal for your program.
Will braces hurt?
Orthodontic appliances have changed a lot over the years, and one of the many benefits of these advances is the improvement in patient comfort. Less pressure, less metal, and the option to have a removable orthodontic system has reduced many of the traditional concerns patients had with orthodontics. That said, some minor soreness can occur when traditional metal braces are adjusted or when slipping on a new Invisalign® aligner, but this sensation should pass quickly. If desired, you can take an over-the-counter pain reliever as needed to minimize this effect.
How much do orthodontics cost?
Orthodontic treatment is customized to the needs of each person, so the price of braces can vary dramatically. According to national averages, the cost of orthodontics can range from about $3,000 to around $7,000 depending on the technique used, the length of time for treatment, the complexity of the procedure, and other factors. We will go over the planned cost for your orthodontic program so you know what to expect. To make braces affordable to as many individuals as possible, we have a selection of payment options, including installment plans, that can help bring the cost of smile enhancement into your budget.
Can I just see my dentist for Invisalign® treatment?
Many dentists now offer Invisalign®, but it is important to understand that this teeth-straightening method is a treatment, not a product to be purchased off the shelf. Orthodontists are specifically trained in moving teeth whereas a dentist has limited knowledge in this area. Dr. Banasiak is board certified in orthodontics, which means he has extensive training in how to achieve the best possible result as safely and effectively as possible. Although Invisalign® has in many ways revolutionized this process, obtaining a long-lasting outcome that balances form and function demands the skill and experience that comes with being an orthodontist.
The first step to achieving straighter, more beautiful teeth is a small one. Contact us online or give us a call today to learn more about orthodontic treatment for adults in New Jersey or to schedule a complimentary consultation.