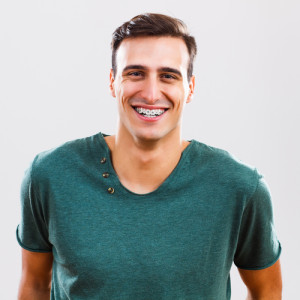 There are many reasons why a person may defer orthodontic treatment until adulthood. However, if you're dissatisfied with the appearance of your smile or if you experience discomfort due to teeth misalignment, there's no reason to continue putting off the procedure. Our experienced orthodontists, Dr. Kenneth Banasiak and Dr. Roger Nettune, offer a comprehensive range of advanced techniques that can help you achieve straighter, better functioning teeth and a more beautiful smile. We recognize that adults have unique needs and goals, including the desire for discreet treatment, and we can tailor your orthodontic care to best suit your lifestyle. Don't wait any longer for the smile of your dreams; contact our practice today for a complimentary initial consultation.
Do I Need Orthodontic Treatment?
The most common reasons for undergoing adult orthodontic treatment are to enhance the cosmetic appearance of the teeth, to address functional concerns, or to do both. Many people experience discomfort when eating, speaking, or biting normally as a result of misaligned teeth. Braces and other teeth straighteners can help to address these issues as well as achieve a balanced smile in harmony with your facial features. If you have an overbite, underbite, crossbite, crowding, gaps, or other issues, orthodontics may be right for you. Dr. Banasiak or Dr. Nettune can evaluate your oral structures and determine whether orthodontia is right for you and which procedure offers the best approach.
In some cases, orthodontics is a necessary part of preparing for orthognathic (jaw) surgery. If you have been told or think you may need jaw surgery, we can help determine appropriate timing for orthodontia to help ensure optimal results. Orthognathic surgery is sometimes used in cases of unbalanced facial appearance, TMJ (temporomandibular joint) pain, facial injuries, and severe bite problems. When assessing your bite (occlusion), we will inform you if surgery may be recommended and what steps should be taken to reduce the orthodontic treatment time, enhance your outcome, and make the most of the procedure.
What Are My Options?
Orthodontics has changed dramatically in the last few decades. There are many options available to help achieve a patient's desired outcome more comfortably and in less time than previously possible. In addition to traditional braces, we offer a comprehensive range of alternatives that offer greater discretion than ever before. We understand having visible braces as an adult can make some individuals feel self-conscious. Invisalign®, ceramic braces, and Empower® self-ligating braces are among the many more discreet options we provide. Furthermore, our customized treatment plans are designed based on your unique anatomic needs (meticulously evaluated by our skilled team) and your personal preferences. We will go over each option with you and find the ideal technique together.
The first step to achieving straighter, more beautiful teeth is a small one. Give us a call today to learn more about orthodontic treatment for adults or to schedule a complimentary consultation.