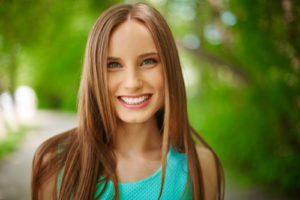 Teens have special needs, goals, and preferences when it comes to just about everything. It naturally follows that, as a teen, you'll want to have a say in your orthodontic treatment. Fortunately, there's a teeth-straightening option that lets you be you: Invisalign® Teen. This technique offers convenience, comfort, and discretion—all while helping you achieve the beautiful smile you want. At Banasiak & Nettune, our board certified orthodontist can determine if Invisalign® Teen is the right approach for you.
Invisalign® Teen, like other orthodontic methods, requires expertise to achieve the desired outcome quickly and effectively. While many dentists offer this innovative approach, only an orthodontist has the specialized education and training to adjust the teeth safely and with long-lasting results. Dr. Kenneth Banasiak is dedicated to delivering exceptional care with every treatment, and his approach to Invisalign® Teen can help you smile a little easier.
Highly recommend Banasiak and Nettune. Always accommodating and communicative and we are very happy with our children's orthodontic and Invisalign results. Thank you!

Anne Lindabury Lanphear

August 18, 2021
More Reviews
What Is Invisalign® Teen?
Just like Invisalign®, Invisalign® Teen is an orthodontic technique that can straighten misaligned, crooked, or crowded teeth using a series of clear, removable aligners. That means you won't have a mouth full of metal when you take yearbook pictures, ask someone out on a date, or just live your best life. Furthermore, you can remove the aligners to eat, drink, brush, and floss. There's no worrying about whether you have pepperoni stuck in metal brackets and wires! Invisalign® Teen is designed with your needs in mind, so it's easier to clean, more comfortable to wear, and much less noticeable than traditional metal braces.
Invisalign® Teen Vs. Braces
While traditional metal braces are the standard approach for correcting teeth misalignment and malocclusion, Invisalign® Teen offers an innovative way to address these common concerns. Adolescents and young adults typically prefer Invisalign® Teen for several reasons. It is clear, and therefore less noticeable, that they are receiving treatment, and the aligner trays can be removed for eating and drinking. Aesthetics and comfort are great benefits, but your parents are (probably) primarily interested in the results. Fortunately, Invisalign® Teen can work just as effectively as traditional metal braces when provided by a board-certified orthodontist. By utilizing advanced imaging technology, we can precisely plan your procedure to minimize the duration of the treatment while optimizing the outcome. Of course, your consistency of wear and cooperation is just as important as with any orthodontic approach. That said, you will likely find maintenance of the aligners easier and more enjoyable than metal braces, and be more accommodating as a result.
What Age Is Appropriate for Invisalign® Teen?
Candidates are typically chosen based on the condition of their teeth rather than their age. As such, teens as young as 12 years old can be eligible for Invisalign® Teen – provided their permanent teeth are present. When you come in for your complimentary consultation, our skilled orthodontist will determine if Invisalign® Teen can achieve your orthodontic goals.
How Does Invisalign® Teen Work?
Once a treatment plan is developed, you will wear a series of customized aligner trays that will gradually adjust your teeth toward the final position. Each clear, removable tray should be worn for about two weeks, followed by the next one in the series, continuing until you complete the process. You should wear the aligners at all times except when you are eating, drinking, brushing, or flossing. Each new set of the trays will gradually shift your teeth toward the final position. We will schedule check-up appointments at approximately six-week intervals, at which point our orthodontist will confirm your progress.
How Long Does Invisalign® Teen Take?
Treatment times will vary based on your needs and goals, though most teens complete the procedure in 9-15 months. Some factors that will go into determining the treatment time include complexity of the plan and how consistently you are wearing the aligners. The aligners should be worn for as close to 22 hours a day as possible, and more is always better.
Why Choose Dr. Banasiak for Invisalign® Teen?
There are a number of factors to consider when choosing an orthodontist to perform your Invisalign® Teen treatment. It can be very helpful to research your potential orthodontist to find out their credentials and experience, especially pertaining to working with teenagers your age. A parent can help make sure your orthodontist has undergone the proper training, obtained certification, and earned the trust and respect of prior patients.
Dr. Kenneth Banasiak is certified by the American Board of Orthodontics and holds special memberships in the American Association of Orthodontists (AAO) and the American Dental Association (ADA). Affiliations with these organizations prove that he is up-to-date in the latest advancements in dentistry, and has received sufficient training to conduct orthodontic treatments. Throughout his career, he has improved the smile of numerous patients, including countless teens! In addition, he is proud to use only the most innovative technologies in the dental world.
Dr. Banasiak's first-and-foremost priority is to provide excellent treatment to his patients in a safe, friendly environment. For a better idea of what Dr. Banasiak can help you accomplish, take a look at our smile gallery.
How Much Does Invisalign® Teen Cost?
We will customize your program to best suit your needs and goals. As a result, the price of Invisalign® Teen will vary from person to person, patient to patient. Broadly speaking, Invisalign® Teen is usually similar in cost to metal braces. And just like metal braces, your dental insurance may cover part of the cost. According to the Invisalign® website, typical fees run from around $3,000 to $8,000, which is usually comparable to the price of traditional metal braces. Since the investment is similar, it's even more important to select someone with the skill and specialized training to provide an exceptional outcome. During your initial consultation, we will go over all anticipated costs with you and your parent or guardian so everyone is well-informed and can make the best decision for the family.
Curiosity is a good thing, and if you have additional questions about how Invisalign® Teen can help you achieve the smile you've always wanted, contact us online or call us today. We can help you schedule a complimentary consultation or provide additional information.