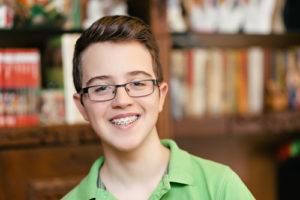 Dental misalignment can begin at a very early age, which is why most people who receive orthodontic treatment are children. By addressing concerns early on, it is often easier to treat issues like overbite, underbite, crowding, and crooked teeth. Furthermore, child orthodontics may be able to eliminate the need for more serious or complex correction later on. Dr. Kenneth Banasiak, our extensively trained orthodontist, offers the most advanced techniques available to straighten teeth, thus achieving both a more beautiful smile and reducing the risk of oral health problems.
What Age Can a Child Get Braces?
The American Association of Orthodontics recommends that children come in for their first orthodontic assessment when their first molars have erupted, typically between the ages of six and seven. When these teeth come into place, a skilled orthodontist can compare the front and back teeth to determine if bite misalignment, crowding, or jaw abnormalities may occur. Early diagnosis not only allows us to plan for your child's healthy future, but also to minimize the potential for self-esteem issues that could occur with dental problems. We want your children to feel as confident as possible in their smile for their whole lives.
What Different Types of Braces for Kids Are Available?
Once upon a time, only traditional metal braces were available to straighten teeth. Today, however, there are many innovative approaches. If your child can benefit from braces, we will discuss your options during your initial consultation. One or another technique may be best for your child's needs and goals, or you may be able to choose from a selection. Some of the orthodontic techniques we offer include the following:
Traditional Metal Braces
Still considered one of the most effective ways to straighten teeth and achieve proper dental alignment, traditional metal braces gradually shift teeth into position using a system of metal brackets and an archwire. Gentle pressure is applied across the teeth to shift them.
Invisalign® Teen
The most popular option for adolescents, Invisalign® Teen works just like traditional Invisalign®. By using a series of removable clear aligner trays, the teeth can be slowly and evenly repositioned to improve bite alignment.
Self-Ligating Braces
Self-ligating braces use a system that can provide a more comfortable and efficient means of adjusting teeth into the optimal position. Self-ligating appliances are high-quality, giving you peace of mind during your child's treatment.
What Is the Child Orthodontics Process Like?
Every treatment plan is customized to suit the unique needs of the child. Depending on the results of the oral evaluation, our orthodontist may recommend single-phase or two-phase orthodontics. For the most comfortable, effective, and safest outcome, we tailor the program to optimize the results while working with the natural development of your child's jaw. As a result, crowding and permanent tooth removal can be minimized or avoided entirely.
How Much Do Braces for Kids Cost?
You child's orthodontic treatment is tailored specifically to her or his needs. As a result, the cost will vary from person to person, child to child. According to the Consumer Guide for Dentistry, the average price for braces for kids ranges from $3,000 to $7,000. The technique applied, complexity of the case, and other factors will play a role in determining the total expense. We will discuss the particulars of your child's program with you, including the estimated cost of treatment, during your initial consultation. We believe everyone deserves to have a healthy, beautiful, and straight smile. Our practice offers a wide array of payment options, including plans with monthly installments, if you are interested. Talk to us about your budget and we will assist you in finding a suitable way forward.
Want to learn more about braces for kids? Contact our office and speak with our knowledgeable and friendly team members. We're here to help.