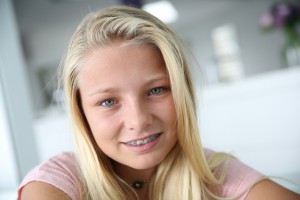 As specialists in Orthodontics and Dentofacial Orthopedics, Dr. Kenneth Banasiak has undergone extensive training to help ensure you receive the best quality of care possible. But what exactly is "dentofacial orthopedics"? Not all dental education is created the same, so we've provided a quick breakdown of what this title describes and what it means for your treatment.
Dental school is where individuals interested in practicing dentistry—as a dentist, orthodontist, or oral surgeon, for instance—receives their education. Upon graduation, some are happy to stop there and practice as dentists. Others may decide to continue training in a focused dental specialty, of which there are nine in total. Most specialties require an additional two or three years of education in a residency program. If you want to become a pediatric dentist, periodontist (a dentist who specializes in gum disease), or oral surgeon, you will have to undergo this extended instruction.
Of the nine specialties, one is Orthodontics and Dentofacial Orthopedics. This long phrase full of strange words may seem complicated, but that's because it's written in another language—Greek. For instance, an orthodontist is a physician who straightens teeth. Translated, the word "ortho" means correct or straight. "Dontic" means teeth. "Dento" can also refer to teeth, and "pedic" means child. Put it all together and you have a physician who specializes in teeth, jaw, and facial growth and development. Basically, it's the study of how to manage and guide tooth movement and facial bone growth from childhood through adulthood.
Some individuals only need to address crooked or misaligned teeth (orthodontics); others may be experiencing facial abnormalities and require more advanced treatment (dentofacial orthopedics). In both instances, appliances typically will be used. There are many types of orthodontic equipment, such as traditional braces, expanders, etc., and we will utilize one or more appliances to optimize your outcome. Shifting crooked teeth and correcting facial structure imbalances at the same time, which occurs during two-phase treatment, is an example of orthodontics and dentofacial orthopedics in action.
Dr. Banasiak has been active in this community for over 40 years. His extensive training and considerable experience allows him to diagnose and treat a wide range of orthodontic concerns while providing caring, compassionate service. When you come for a complimentary consultation, he will develop a customized treatment plan that incorporates orthodontic and dentofacial orthopedic techniques. Come see how we can help give you the smile you've always desired.
Our friendly and knowledgeable team is available to help if you have additional questions about what we do here at Banasiak & Nettune Orthodontic Associates. We can also schedule you a complimentary consultation with one of our orthodontist. Contact us today for more information.