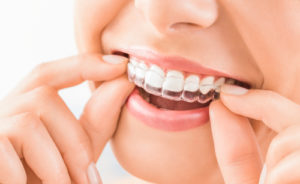 Nearly everyone wants a beautiful smile with straight teeth, but not all orthodontic treatments offer equally optimal outcomes. Invisalign®, an innovative orthodontic system that has revolutionized teeth straightening, can effectively and safely reposition teeth when performed by a skilled orthodontist. However, mail order and DIY teeth straightening solutions are not professionally monitored, which can lead to serious consequences and potentially permanent damage.
The American Dental Association (ADA) has come out against DIY (Do It Yourself) orthodontic treatments, saying, "Dentists [should be] in charge of diagnosing and treating patients to ensure the safe delivery of appropriate care."
This is also true when it comes to mail order teeth-straightening aligners. At-home kits that ask patients to create a dental mold, mail it in, and receive aligners are risking patient health. No oral evaluation is performed with this approach, so if any structural problems or health issues exist, such as periodontal disease, using these aligners could exacerbate the condition or even create a new one.
At-home aligners may be able to straighten your teeth, but this technique is focused on aesthetics alone—not function. Your teeth can be straight and have a bad bite (malocclusion), with your teeth not fitting together properly when you close your mouth. Malocclusion can cause TMJ disorder, periodontal problems, and the loss of teeth.
The safest way to improve your smile is to consult a board-certified orthodontist. Orthodontics is the science of tooth position, and these dental professionals are extensively trained in modifying the location of the teeth and oral structures without causing harm. Even a small amount of tooth movement can lead to unintended consequences if not supervised by an orthodontist. Invest in your smile by taking good care of it. Trust the experts to help you achieve your goals.
If you have any questions about teeth straightening systems, please reach out to our team. We can help you find the right treatment for your needs and goals that preserves your health and provides a beautiful result. If cost is a concern, we can work with you to find a payment plan that fits within your budget. After all, everyone should have access to a healthy smile they can be proud to show off.