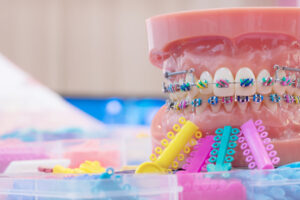 Before delving into the main topic of this post, our entire team here at Banasiak & Nettune Orthodontic Associates wishes to express our sincere hope that you and your loved ones are staying safe and healthy during the COVID-19 pandemic. With our region having been significantly affected by the novel coronavirus, our hearts, thoughts, and well-wishes go out to all those impacted—be it physically, psychologically, and/or fiscally. Keep holding strong; we will make it through this difficult period.
Although our doors are temporarily closed as we do our part to curb the spread of COVID-19 by following government recommendations, our practice still very much cares about the needs (and, of course, the smiles!) of our patients. Over the past couple of months, we've received numerous questions from parents and patients, many of whom have children with braces—or who have braces themselves—and are wondering what to do if it's time for an adjustment while our offices aren't open.
Since we are not doing in-office visits, we request that parents or patients email us through our website using the form located on this page. Our orthodontist—Dr. Banasiak—will respond as quickly as possible, addressing your questions and/or concerns as best they can without the ability to consult in person. If necessary, you may be asked to take and send photos of your child's teeth (or your teeth, if you are the patient), which Dr. Banasiak will review to provide insight and guidance related to the current status and future needs of your child's (or your) braces treatment.
Of course, not all of our patients have braces. If you or your child is currently undergoing another treatment at our practice—including Invisalign®, TMJ therapy, sleep apnea treatment, or something else—the same email instructions noted above should be followed in the event any questions or concerns arise. Once we receive your message, you can expect a personalized reply from one of our team members.
While we would certainly prefer to see each and every patient in person, we must all be flexible and make sacrifices for the greater good during this unprecedented time. We hope that you find this communication with our orthodontist to be helpful as we abide by social distancing restrictions, and we look forward to the day we can reopen our doors and resume business as usual. Until then, stay healthy, stay strong, and stay positive!