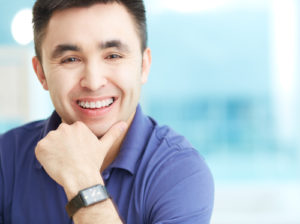 Picture someone wearing braces—how old are they? Most people imagine a child or a teenager when they think about the average orthodontic patient. However, approximately 20% of all people with orthodontics are over the age of 18, and an increasing number of adults are choosing to fix teeth that have bothered them for cosmetic or functional reasons (or both). Today there are more options than ever for individuals of all ages to enhance their smiles.
Traditional braces are still a popular option. They are often the most affordable choice and they can address a wide range of concerns both simple and complex. But if a "metal mouth" makes you nervous, there are other excellent methods to straighten the teeth, such as the clear version of Empower® self-ligating brackets and Invisalign® aligners. The latest techniques and technologies also make the adjustment process more comfortable than ever before.
Adults are often far more dedicated to caring for their teeth and orthodontic appliances than younger patients since they consider it an investment in their own health and well-being. That can lead to quicker treatment times and fewer unexpected costs. So, if you're unhappy with your smile due to crowding, gaps, or misalignment, you're not alone.
Of course, one of the most important choices an adult can make when it comes to deciding on orthodontics is selecting the right professional to perform the procedure. Many dentists now offer Invisalign®, but only an orthodontist is fully trained in teeth movement. Talk to our board certified orthodontist about whether treatment can help you achieve your goals.