Dr. Kenneth Banasiak utilizes innovative 3D technology to provide patients with enhanced convenience and precision in orthodontic treatment.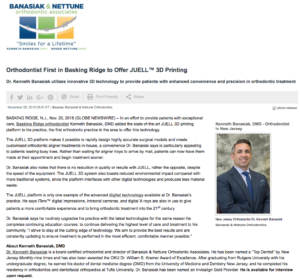 Basking Ridge, NJ — In an effort to provide patients with exceptional care, Basking Ridge orthodontist Kenneth Banasiak, DMD added the state-of-the-art JUELL 3D printing platform to his practice, the first orthodontic practice in the area to offer this technology.
The JUELL 3D platform makes it possible to rapidly design highly accurate surgical models and create customized orthodontic aligners treatment in-house, a convenience Dr. Banasiak says is particularly appealing to patients leading busy lives. Rather than waiting for aligner trays to arrive by mail, patients can now have them made at their appointment and begin treatment sooner.
Dr. Banasiak also notes that there is no reduction in quality or results with JUELL, rather the opposite, despite the speed of the equipment. The JUELL 3D system also boasts reduced environmental impact compared with more traditional systems, since the platform interfaces with other digital technologies and produces less material waste.
The JUELL platform is only one example of the advanced digital technology available at Dr. Banasiak's practice. He says iTero™ digital impressions, intraoral cameras, and digital X-rays are also in use to give patients a more comfortable experience and to bring orthodontic treatment into the 21st century.
Dr. Banasiak says he routinely upgrades his practice with the latest technologies for the same reason he completes continuing education courses: to continue delivering the highest level of care and treatment to his community. "I strive to stay at the cutting edge of technology. We aim to provide the best results and are constantly updating to ensure treatment is performed in the most efficient, comfortable manner possible."
About Kenneth Bansiak, DMD
Dr. Kenneth Banasiak is a board-certified orthodontist and director of Banasiak & Nettune Orthodontic Associates. He has been named a "Top Dentist" by New Jersey Monthly nine times and has also been awarded the OKU Dr. William S. Kramer Award of Excellence. After graduating from Rutgers University with his undergraduate degree, he earned his doctor of dental medicine degree (DMD) from the University of Medicine and Dentistry New Jersey, and he completed his residency in orthodontics and dentofacial orthopedics at Tufts University. Dr. Banasiak has been named an Invisalign Gold Provider. He is available for interview upon request.
For more information about Dr. Banasiak and his practice, please visit newjerseybraces.com and facebook.com/BanasiakNettuneOrthodonticAssociates.
Contact:
Banasiak & Nettune Orthodontic Associates
Basking Ridge Office:
65 S. Maple Ave.
Basking Ridge, NJ 07920
(908) 766-2444
Mendham Office:
18 E. Main St.
Mendham, NJ 07945
(973) 543-6644
Rosemont Media
www.rosemontmedia.com
(858) 200-0044