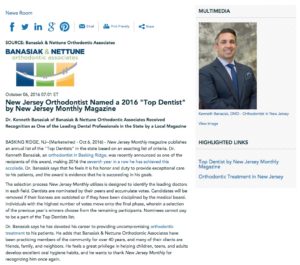 Dr. Kenneth Banasiak of Banasiak & Nettune Orthodontic Associates received recognition as one of the leading dental professionals in the state by a local magazine.
Basking Ridge, NJ — New Jersey Monthly magazine publishes an annual list of the "Top Dentists" in the state based on an exacting list of criteria. Dr. Kenneth Banasiak, an orthodontist in Basking Ridge, was recently announced as one of the recipients of this award, making 2016 the seventh year in a row he has achieved this accolade. Dr. Banasiak says that he feels it is his honor and duty to provide exceptional care to his patients, and the award is evidence that he is succeeding in his goals.
The selection process New Jersey Monthly utilizes is designed to identify the leading doctors in each field. Dentists are nominated by their peers and accumulate votes. Candidates will be removed if their licenses are outdated or if they have been disciplined by the medical board. Individuals with the highest number of votes move onto the final phase, wherein a selection of the previous year's winners choose from the remaining participants. Nominees cannot pay to be a part of the Top Dentists list.
Dr. Banasiak says he has devoted his career to providing uncompromising orthodontic treatment to his patients. He adds that Banasiak & Nettune Orthodontic Associates have been practicing members of the community for over 40 years, and many of their clients are friends, family, and neighbors. He feels a great privilege in helping children, teens, and adults develop excellent oral hygiene habits, and he wants to thank New Jersey Monthly for recognizing him once again.
About Kenneth Banasiak, DMD
Co-Founder of Banasiak & Nettune Orthodontic Associates, Dr. Kenneth Banasiak is a board certified orthodontist practicing in the Mendham and Basking Ridge area. He earned his undergraduate degree from Rutgers University and his dental degree from the University of Medicine and Dentistry New Jersey (UMDNJ). He completed additional orthodontic training at Tufts University. Dr. Banasiak has been the recipient of numerous awards, including being named "Top Dentist" by New Jersey Monthly magazine seven times. He is available for interview upon request.
For more information about Dr. Banasiak and his practice, please visit newjerseybraces.com and facebook.com/BanasiakNettuneOrthodonticAssociates.
Contact:
Banasiak & Nettune Orthodontic Associates
Basking Ridge Office:
65 S. Maple Ave.
Basking Ridge, NJ 07920
(908) 766-2444
Mendham Office:
18 E. Main St.
Mendham, NJ 07945
(973) 543-6644
Rosemont Media
www.rosemontmedia.com
(858) 200-0044