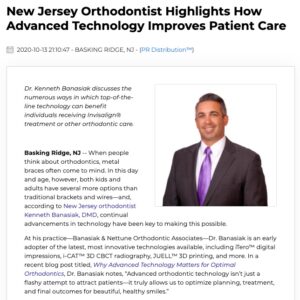 Dr. Kenneth Banasiak discusses the numerous ways in which top-of-the-line technology can benefit individuals receiving Invisalign® treatment or other orthodontic care.
Basking Ridge, NJ — When people think about orthodontics, metal braces often come to mind. In this day and age, however, both kids and adults have several more options than traditional brackets and wires—and, according to New Jersey orthodontist Kenneth Banasiak, DMD, continual advancements in technology have been key to making this possible.
At his practice—Banasiak & Nettune Orthodontic Associates—Dr. Banasiak is an early adopter of the latest, most innovative technologies available, including iTero™ digital impressions, i-CAT™ 3D CBCT radiography, JUELL™ 3D printing, and more. In a recent blog post titled, Why Advanced Technology Matters for Optimal Orthodontics, Dr. Banasiak notes, "Advanced orthodontic technology isn't just a flashy attempt to attract patients—it truly allows us to optimize planning, treatment, and final outcomes for beautiful, healthy smiles."
As an example of how technology improves patient care, the NJ orthodontist explains the i-CAT™ 3D CBCT radiography system can be utilized to view all oral structures with exceptional precision from practically any angle. Furthermore, it allows him to accurately evaluate airway volume in potential sleep apnea patients, as well as assess jaw joints for those experiencing pain. This can lead to faster diagnoses and more effective treatment planning, ultimately yielding quicker procedure times, fewer mid-treatment adjustments, and enhanced end results.
In addition, Dr. Banasiak says technologies like the iTero™ digital scanner and the JUELL™ 3D Printer help to better patient care by streamlining various processes. For instance, the former can quickly take incredibly precise digital impressions of the entire mouth that allow for unmatched orthodontic treatment planning, and the latter is capable of constructing surgical guides, fabricating corrective retainers, and developing teeth straightening programs in the office in a matter of minutes. When used together for procedures such as Invisalign®, Dr. Banasiak adds that patients can further benefit from saving both time and money.
Ultimately, the New Jersey orthodontist reiterates that advanced technology truthfully aids in optimizing the planning, efficiency, and efficacy of orthodontic treatment—and he hopes patients considering orthodontic care take this into consideration when choosing a provider.
About Kenneth Banasiak, MD
Dr. Banasiak is a board-certified orthodontist in Basking Ridge and Mendham. At his practice, he offers a wide array of orthodontic services for children, adolescents, and adults—including two-phase treatment for young kids, traditional braces, Empower® self-ligating brackets, Invisalign® Teen, and Invisalign®. Dedicated to remaining at the forefront of his field, Dr. Banasiak is a Diplomate of the American Board of Orthodontics, as well as a member of both the American Association of Orthodontists and American Dental Association. As evidence of his commitment to quality care, he has several times been named a "Top Dentist" by New Jersey Monthly.
To learn more about Dr. Banasiak and his practice, visit newjerseybraces.com and facebook.com/BanasiakNettuneOrthodonticAssociates.
Contact:
Banasiak & Nettune Orthodontic Associates
Basking Ridge Office:
65 S. Maple Ave.
Basking Ridge, NJ 07920
(908) 766-2444
Mendham Office:
18 E. Main St.
Mendham, NJ 07945
(973) 543-6644
Rosemont Media
www.rosemontmedia.com
(858) 200-0044